Lake Roosevelt Region
The location of the offered properties is in the sunny Big Bend area of Eastern Washington. The area enjoys more sunshine than the western side of the state. Temperatures can rise into the 80s and 90s in July, August and often into late September. Spring is pleasant and brings forth wildflowers and very comfortable temperatures in the 60s and 70s. The fall brings cool, crisp but bright sunny days that are ideal for the hunting season.
---
Hanson Harbor Ranch is roughly 20 miles upriver from the Grand Coulee Dam in the vicinity of the historic Hellgate Rapids of the Columbia River. Whitestone Heights is an additional 6 miles upriver in the wilderness near Whitestone Rock on Lake Roosevelt, a boating benchmark.
Lake Roosevelt is a huge recreational lake that is still largely undiscovered, except by the locals. Boating is the primary activity in the summer with a variety of watersports and fishing. It has many inlets, beaches and rock formations to explore up and down the lake.
A short boat or car ride upriver gives you access to the Two Rivers Casino on Lake Roosevelt. There is a wonderful nine-hole golf course located in the township of Wilbur, a quick 20 minute car ride away.
---
Lake Roosevelt extends 150 miles from Grand Coulee Dam to roughly the Canadian Border with boating and water recreation for virtually the entire length. The CDNRA offers the boating public and other users the unique opportunity of access to both shores of the lake.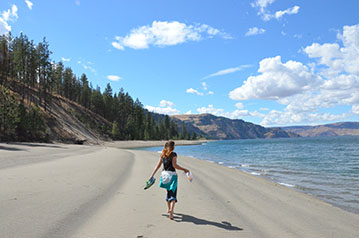 Lake Roosevelt and its beaches are uncrowded. To the north lies the wilderness of the Colville Indian reservation, where you can see a variety of wildlife on the beaches and the steep rock cliffs above the lake. A traveler can cross over Lake Roosevelt on the free Keller Ferry near both properties and be able to travel through the Colville Indian reservation to Republic and the northern reaches of Washington State. To the west and downriver is access to the engineering marvel, Grand Coulee Dam.
---