Hanson Harbor Ranch - Property Description
Hanson Harbor Ranch is one of the largest, if not the largest, privately owned parcel of undeveloped land abutting the Lake Roosevelt National Recreational Area with access to it and Lake Roosevelt. Lake Roosevelt is a 150 mile lake extending from Grand Coulee Dam to the Canadian border. The ranch abuts the Lake Roosevelt National Recreation Area for 2.5 miles and offers access to the lake for that distance.
---
Hanson Harbor Ranch is 20 minutes north of Wilbur in Lincoln County, 1-1/2 hours from Spokane and 4 hours from Seattle. Wilbur is located on US-2 and is the portal for access to the ranch. From Wilbur, the ranch is accessed via well-maintained county roads, 7 miles of which are paved and 6 miles of which are gravel.
Superb water recreation is offered. From Hanson Harbor Ranch, you can get directly to Lake Roosevelt beaches for swimming and exploration of the 2.5 miles of Lake Roosevelt waterfront. A convenient boat launch opens up the entirety of Lake Roosevelt to water sports and recreation. You can boat the entire 150 miles of the lake and easily come ashore at empty beaches all along the way. A full range of water sports can be enjoyed on the lake. Fishing for trout, walleye, bass and other species is at your doorstep.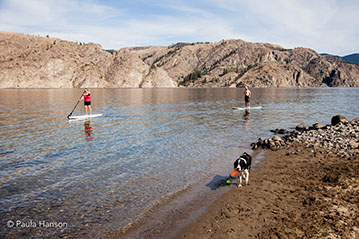 There is much more than water recreation. Hanson Harbor Ranch offers 2020 acres of land to be used and explored most of which is wilderness. Recreational possibilities include horseback riding, hunting, biking and backcountry hiking. The land is also appropriate for pasturing livestock.
---
The views! The views! The views! They are of all kinds and descriptions. Do you enjoy viewing the Lake close at hand from forested bench land? How about from a high promontory overlooking Lake Roosevelt and affording dramatic cliff and mountain views of the Colville Indian Reservation wilderness across the lake? Are territorial views of basalt cliffs, meadows, a stream, timbered land and open shrub-steppe lands your cup of tea? What about a remote, homestead ruin perched in an open bowl which narrows to a deep and steep timbered canyon as it approaches the lake. All the views are there for you to enjoy as you traverse the ranch.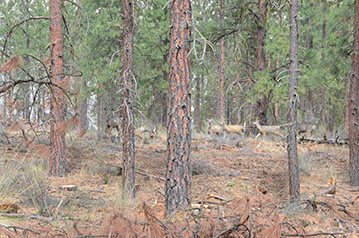 Hanson Harbor Ranch provides excellent habitat for deer, turkey, and other wildlife. There is plentiful wildlife for the avid hunter and its hunting potential has been recognized by Washington State's Department of Fish and Wildlife. There are opportunities beyond hunting for birders, photographers and observers of wildlife throughout the ranch.
The vastness of Hanson Harbor Ranch and the variety of its terrain offer something for everyone to enjoy. Within that expanse and variation in elevation and outlook there are areas offering their own unique features.
---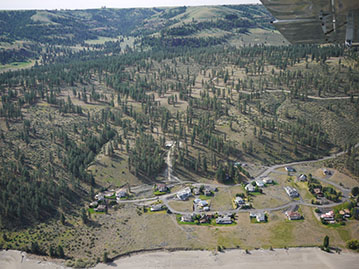 Two large segments of forested bench land dropping gently to Lake Roosevelt and surrounding a well-kept existing subdivision. Social interaction is available with the existing homeowners while maintaining privacy and serenity.
A third very remote segment with fields of seasonal wildflowers in a vast bowl. A historic homestead and its ruins exist in the high elevation and overlook a deep and steep ravine leading to the lake.
A large, remote area of a high-elevation shrub-steppe plateau with territorial views of Lake Roosevelt, the rest of the ranch and the surrounding area.
---
A gentle rolling segment with a meadow, forested glade and an intermittent brook running through it. Two county roads are nearby.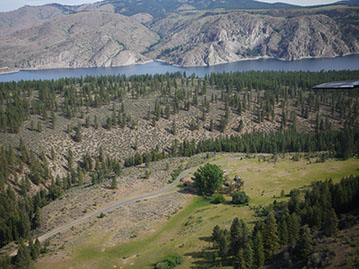 Lying to the East is an area of forested bench lands following the brook into a ravine leading to its outlet near the National Park Service campground at Jones Bay. The primitive county road going through the area passes by another historic homestead with ruined buildings and gives views of basalt coulees rising off the one side.
---
Building sites offering privacy and serenity are located throughout Hanson Harbor Ranch.

The current owners prefer that Hanson Harbor Ranch be kept as it is because of its beauty and uniqueness. But they recognize that this may not be possible and they do not intend to impose unreasonable conservation restrictions on a purchaser of the entire ranch.